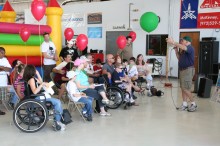 MCKINNEY, TX – One of the best parts about the General Aviation community in the United States is the sense of spirit and togetherness when it comes to sharing the wonder of flight with others.  Cutter Aviation is proud to partner with an organization that not only shares the freedom of flight with children, but also helps inspire and motivate them to reach beyond the world they have been used to; the world of physical challenges.
Challenge Air, a non-profit foundation committed to sharing the experience of flight with physically disabled children by organizing flying events around America, was hosted at the McKinney, TX location of Cutter Aviation at Collin County Regional Airport, Northeast of Dallas on June 6th, 2009.  In addition to giving children the experience of taking flight themselves, the all-day event was filled with games, activities, music, dancing and fun for the whole family.  Smiles were contagious and spirits were "sky high" as each child returned from their flight to a cheering crowd!
The event at Cutter Aviation McKinney took 108 children into the air and flying "right seat" to experience the amazing freedom that flying offers.  Sixteen generous pilots donated their piloting skills, time, aircraft and fuel to make such a fantastic number of flights possible.  Over 125 ground crew members, including many Cutter Aviation employees, donated their time and talents to make everything go along smoothly.
The event at Cutter Aviation McKinney also marked the kickoff of a major fundraiser for Challenge Air that will run through the Fall…
Challenge Air is holding a drawing to give away "The Aviator" – a fully customized, aviation themed customer motorcycle donated to Challenge Air by Cutter Aviation at the 2008 National Business Aviation Association Convention in Orlando, FL.  The Chopper was created by Cutter Aviation in commemoration of its 80th Anniversary of doing business, making it the oldest Fixed Base Operator (FBO) in the nation.  The highly stylized chopper is a work of art and features many unique parts, designs and motifs that tie directly into aviation.
The drawing held by Challenge Air is limited to 2000 tickets, and each ticket is $50 each.  The drawing will be held on December 31st 2009 and will be the largest single fundraiser held in Challenge Air history.
For information on the drawing or to purchase tickets, contact Challenge Air at 214-351-3353 or email Byron@challengeair.org.  You may also purchase tickets online at http://www.challengeair.org.
About Cutter Aviation
Founded in 1928 by William P. Cutter, Cutter Aviation is a full-service aviation company, offering aircraft fueling, maintenance and avionics solutions, aircraft charter and aircraft sales and management. Serving the business aviation industry, Cutter has operations at eight major airports in Arizona (Phoenix, Deer Valley and Phoenix, Sky Harbor), New Mexico (Albuquerque), Colorado (Colorado Springs) and Texas (Dallas, El Paso, McKinney and San Antonio). The company is a member of the Pinnacle Air Network, National Business Aviation Association (NBAA), and the National Air Transportation Association (NATA). Cutter is the oldest continuously family-owned and operated FBO (Fixed Base Operation) with over 80 years of serving the aviation community.